Unfortunately, the iCal widget that Jeff Croft asked about never shipped with Tiger. On the other hand, Ben Kazez has developed one himself. This one is called iCal Events. It doesn't yet support all-day calendars, but I'm sure that functionality is on it's way.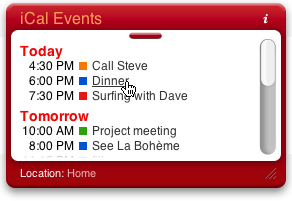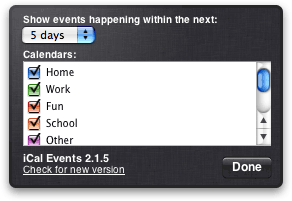 If you (1) have Tiger, (2) are looking for an iCal Widget, or (3) haven't already purchased Konfabulator 2 (which includes a state-of-the-art iCal Widget), you should definitely give this one a try. iCal Events.
Thanks so much for the widget, Ben!
Update: Ben has asked me to remove my customized version of his widget. If you want to make the changes yourself, you can open the widget package, edit the CSS file, change all references of Helvetica to Verdana, and fiddle with some of the font sizes so that everything fits nicely.