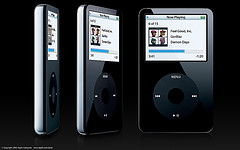 Okay, so have I ever mentioned how cool my wife is? Yeah. I had my 26th birthday last week, and when I got home that night, I had one of these awesome little toys waiting for me. The 60GB model. Yeah.
But that one was broken.
So I exchanged it for a new one, and that one has been awesome. Combine that with Tivo, Tivo AutoPilot, and a few hours of patience, and I was watching Tivo'd episodes of Alias, Lost, Veronica Mars, and the Mind of Mencia on my iPod the next day (which came in handy because I had a lot of riding-in-a-car to do that day).
I seriously have the best wife ever. :)